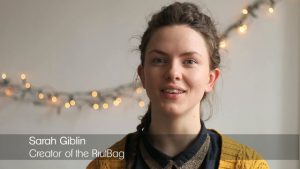 In the final post of this trio featuring successful Kickstarter entrepreneur Sarah Giblin, I talked to her about her approach to communications. She single-handedly communicates with over 1000 customers via email updates, blogs and social media.
Her exemplary use of social media content to communicate her brand and product may seem purely spontaneous, but there's business thinking behind every word.

"Communication and the relationship with my RiutBags users are at the heart of Riut and the RiutBag. As a one person startup, I can't meet all my customers individually – I wish I could! – but I can respond to them individually on Kickstarter, Facebook and Twitter. That keeps my feet on the ground, reminding me that I'm taking orders and making things for real human beings, and they remember I'm one too!

"I plan about one third of my content. For example: I will always blog about where I was a year ago, my current manufacturing process and results of data I collect. However, my customers inspire me along the way for the rest. They send in great stories, share photos of their cats inside their RiutBags(!) and keep us amused with GIFs when they're waiting for the RiutBags in the post or the urban adventures on which they take their RiutBags. I encourage this by doing the same! I take photos of my RiutBag on the go in crowded marketplaces, whilst food shopping, on the train or just out and about!
"This is true content marketing. I have built up an audience of people who are happy to be associated with Riut on social media. When they like what I post, they share it and it reaches more people. The effort required is your time, imagination and fearlessness to speak to customers in public when they're happy or disappointed with you. You have to keep your calm, think about the customer's point of view and be creative! If your customer has been kind enough to take a photo of your product, reply and perhaps take a little photo in response – show them you care! It does require effort to sustain, but for an entrepreneur with no budget who's not afraid of hard work, it's ideal. I use videos and photos that I take on my phone to fill articles and posts that I write.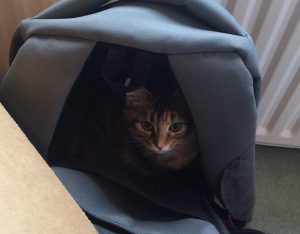 "Whilst I communicate individually with my customers, I cannot design based purely on individual opinions. I also cannot judge my success or failure by single views. I use surveys to gather the bigger picture on my designs, success of communication + views of my RiutBag users. Surveys give my customers an easy, time-effective and structured way to feedback they give me a way to take a macro view of where I am. Data is a fantastic thing. It's up to you what you do with it; but let it surprise you and take you in new directions. Survey data is a good reason to change what you're doing.

"Riut, pronounced "riot" stands for Revolution In User Thinking. This is not only a description of my product (the revolved rucksack), this mantra tells me to revolve everything I do around the user. When I manage to do this, I find I have very happy customers in the main who appreciate the extra time and attention I give them. They also appreciate this approach in my production design and customer service.

"My quest is to start a rucksack revolution! The first 1200 global RiutBag users are out there already. Now that I've tested the concept and got the thumbs up from real rucksack users, it's time to think big. If I can make it happen through my own website I will. However, it's my job to show the world my RiutBag. So I'm starting discussions to work with retailers, but that won't stop me building the RiutBag story further online through social media.
"The RiutBag is a new idea that needs to be well communicated to work. Most people in the world don't know that rucksacks should be the Riut way round, you see. So I'm going to communicate to new people + ask the first 1200 RiutBags users to help me. That way it really will be a revolution that will spread online via social media and word of mouth. If a new channel pops up – like Periscope – I'll give it a go and see what it brings. It's a digital strategy for a positive product with an idea that people can get behind. That's how I designed the RiutBag, the brand and all my communications."

www.riut.co.uk is now live. After selling out the first production run, Sarah is taking pre-orders for the next one due to arrive this autumn. The website is brought to life with videos and photos shot on a smartphone, the blog and a user manual to help first time RiutBag users get used to the design. I particularly love the "story" infographic sharing the story of how a normal rucksack user came up with an idea and made it happen. I heartily recommend a visit.