1. Where is The Wordsmithy?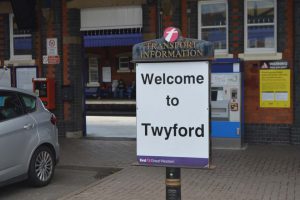 I work from my home office in Twyford, between Reading and Maidenhead, Berkshire.
2. Have you always been there?
No. I founded the business in 2003 from my then home in Central Reading. I'm originally from Cheshire but I've also lived and worked in London, Manchester, Leeds and Stoke-on-Trent.
3. Why is it called The Wordsmithy?
I wanted a short business name that conveyed the practical, hardworking nature of copy, rather than the airy-fairy creative side. A smithy is where a blacksmith forges metal with a hammer, anvil and furnace. His or her craft demands vision, skill, accuracy, stamina and patience and the outputs are are essential, practical items like horseshoes or gates. They may be aesthetically beautiful but they are primarily functional and well made. I am passionate about the idea of making words work to achieve specific goals.
Words are not just ornamental. They're strong, tangible and powerful. They act on people to stimulate behaviour and change feelings and perceptions – your choice of words really does matter.
4. How many staff are there?
Just me. I'm owner, manager, administrator, finance, sales, marketing, technology, operations and dogsbody. I have several terrific associates I call on if a project demands more resources (hello Fiona Henry and Patrick Moore!) but I'm the only person on the payroll here.
5. What are The Wordsmithy's specialist sectors?
I don't have any. I actively seek to work in as many sectors and industries as possible, because I think it keeps my approach fresh and I can bring good practice and innovation from one area to another. On a personal level, I love the diversity and variety of my work.
6. How many clients does The Wordsmithy have?
From 2003 to today, I have carried out billable work for exactly 101 client businesses! Usually I have projects on the go for five or six different clients at any one time.
7. Who is your biggest client?
In terms of their organisation size, it would be IBM, followed by DHL, Vodafone and Sainsbury's. In terms of the amount of work I've done for them, Vodafone utilised about 75% of my time for two or three years. They used me to write the standard copy for customer service letters – as you can imagine, many were needed! These days I believe they use a much larger agency to do this job. It was great while it lasted!
8. Which is better, business or consumer?
At the moment I have a lot of business to business clients – I enjoy the intellectual challenge of getting to grips with their subject matter though it's sometimes a bit dry and technical. For marketing briefs, clearly it's my job to make it impactful and interesting! I feel I learn a lot writing for B2B and I particularly like keeping up to date with ever-evolving digital topics.
I do love it when a consumer brief drops into my inbox. I've written packaging copy for consumer brands that I now see in the supermarket, which still gives me a little thrill! Ad, online and on-pack consumer copy is often short, which can make it harder to be original and clear. So a few good words can take a very long time and a lot of effort to craft.
9. What's the best project you've ever worked on?
I used to write for the Sainsbury's colleague magazine and I loved going to stores and events to interview employees. Everyone had a fascinating story. I also met TV presenter Nick Knowles, paralympian Ellie Simmonds, footballer Daniel Sturridge and actor/chef Lisa Faulkner.
10. What's the most unusual writing brief you've accepted?
I think my lovely client Kitty French won't mind me naming her. She writes erotic fiction and I have edited five of her published novels and novellas. Fiction editing is a fascinating, time-consuming and absorbing job – this subject matter throws up plenty of diverting challenges, like keeping the vocabulary varied and making sure descriptions of what people get up to are feasible. Kitty and I have had amusing exchanges about whether or not hands or legs could reach that far or bend that way!